Natural Gas Is Heading to 1997 Levels, Should Stay There Awhile
Seeking Alpha, April 27, 2009

In the middle of this decade, E&P companies were spurred on by rising commodity prices and easy credit to find and develop new sources of domestic natural gas–most notably shale gas. The forces that enabled this phenomenal growth in domestic gas production–the great asset and credit bubble–have vanished into air, into thin air.
Now, Shale-gas companies may have been impaled on their own bayonets. Yet some would have us believe that natural gas prices are poised for a great comeback–that all the fret and worry is for nothing because prices are going to come right back up and justify the development of all the shale in the country, and then some.
They are wrong: demand will continue to be weak and supply will not be nearly as sparse as the some of the gas bulls would have us believe. Instead, the story of 2009, 2010, and beyond will be not only how much farther natural gas prices will fall, but also how long prices will stay in the basement, and who will be counted among the casualties.
The Fallacy of the Rig-Laydown, Production-Decline Pricing Idea: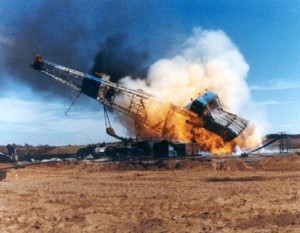 U.S. producers, loudest among them being Chesapeake (CHK), are howling that lower prices will eventually lead to less production, which in turn will severely impact supplies and raise the price.
But this is not a process which will lead to sustained greater prices, because even if this phenomenon caused a temporary or seasonal price increase, that would only encourage more production from known, vast shale supplies, and other prolific domestic sources like deep Bossier–which would result in another glut, and bring prices down again. In this scenario, wouldn't the price just settle at a point which is only marginally better than the cost of production? Its also important to recognize that it takes less rigs actively drilling now to produce more gas than even a few years ago.
With more built-for-purpose horizontal shale rigs active in places like the Marcellus shale, a few new, successful horizontal units can bring forth a level of production that may have taken 10 or 20 vertical wells to equal only a few years ago.
For example, to date, CXG has drilled 5 horizontal wells with costs declining from $5.3mm for the first well to $3.8mm for the fifth well. The company expects the next horizontal well to cost ~$3.6mm. Average IP-rate for the first 5 horizontal wells was 4.3 MMcf/d. If we assume the lower horizontal well cost of ~$3.8mm with a 3 Bcfe EUR on 40-acre spacing
Another factor which could cut short a price spike is that gas companies may have wells they have shut in and are not producing. They will turn these wells on as prices rise, allowing a rapid flood of natural gas to enter the market much faster than an increase in drilling could respond. It is also likely that if storage reaches capacity there will be no choice but to shut in some production.
In any event, a slight rise in prices into the zone of marginal profitability would likely engender a race to bring on more production in order to realize cash-flow, which could flood the marketplace once again, causing the price settle at or near the break-even point. In this shale-supply driven scenario, prices will go to the marginal cost of production, so any industry gains in efficiency and cost-saving of production will only serve to drive the price down.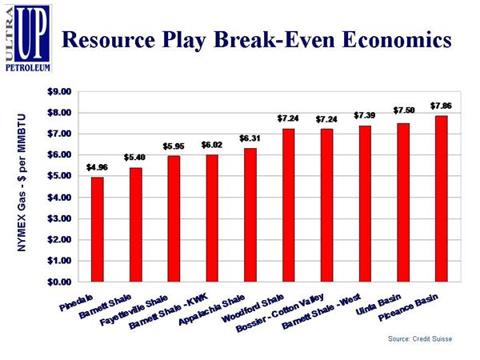 (click image to view in separate window)
In the shale-supply driven scenario, big regional shale leaders like Range Resources (RRC) could continue to make money producing high volumes at prices at or near the marginal cost of production, especially since Marcellus gas is usually sold at a Nymex premium in the Northeast market due to savings on transportation.
But this scenario does not factor in the burgeoning supply of natural gas headed to the U.S. on foreign-flagged tankers that can deliver as much gas in a month's transport time as a good shale well can deliver over its entire productive life.
LNG and the Coming Wave of Cheap Foreign Gas...
To continue reading, CLICK HERE.